So, schools have been cancelled and you're now tasked with Coronavirus Home schooling. So, How to Home School during Coronavirus? Home Schooling during regular times isn't easy, but Coronavirus home schooling is even harder. You may be working from home and trying to keep your child's learning from slipping, or just plain trying to keep them busy for a few hours so that you can get some work done yourself. We're in trying times and no matter what your homeschool style is, it's likely to change by the hour. The good news is that many companies that cater to full-time homeschoolers are stepping up and trying to help parents learn how to homeschool during the Coronavirus. These companies have put together content and resources to help you through this Coronavirus home schooling effort and will help you navigate this scary time and some have provided free resources to help parents learn how to homeschool during Coronavirus.
We're here to help you through this pandemic and the uncertain times that lie ahead of us. Whether you're a full time homeschooling or just Coronavirus home schooling, we have thousands of resources for parents to help with schooling at home. Homeschooling doesn't have to be hard — there are so many resources and programs out there that will help automate the homeschooling process for you. Here are some fantastic resources that we approve of (below). If you have questions or need any help, please don't hesitate to reach out to us. Please email info@howtohomeschool.net if we can be of any help to you!
Coronavirus Home Schooling Resources — Choose a category below!
---
You're viewing our resources about Coronavirus Home Schooling and How-to Homeschool During Coronavirus. We hope these are helpful to your home schooling during the Coronavirus pandemic.
---
Online Courses/Digital Learning
Try the Lingokids app for both playing AND learning!
Perfect for kids aged 2-8, this mobile app with games, songs, episodes and more, helps children practice over 4000 English vocabulary words, improve motor skills and develop their writing abilities- all while having a blast! More than 18 million families trust Lingokids' ad-free program, developed by teachers and educational professionals.
We want to do something special for How to Homeschool members. We'd like to offer you 1 free month of Lingokids Unlimited by accessing https://www.lingokids.com/coupons/redeem#/ with the coupon code LKHTHDEMO.
---
Virtual Kidz Camp
 is enrolling students for the summer months. This is a camp for creative and curious minded kids who want to have an enriching, non-traditional, summer experience. The camp is designed to build confidence and a love of learning, as well as to help kids discover and explore possible interests and passions.
Ages: 8 and up. Dates: June 15, 2020 to August 27, 2020 (by the week optional). Time: Monday-Thursday 9am to noon (all classes meet on Zoom)
Cost: $350 per week (w/ multi-week and sibling discounts). Teachers: Individuals with subject expertise who are passionate about teaching kids and making learning fun.
Offerings: Drawing/Sketching, Music & Video Production, Spanish, Coding, Strategy Games, Entrepreneurship, In-Motion (movement), Creative Writing, Book Club, Trivia, Independent Research Projects, and more
Academic Hour: There is an optional academic hour from 12:30 to 1:30pm daily
Let's make it a meaningful summer!
https://bit.ly/virtualkidzcamp
---
Arcademics is the leader in online multiplayer educational gaming, with 3M daily free gameplays at www.arcademics.com
With multiplayer edu-gaming, students, parents, family members, and friends can play together in a fun competitive way while practicing core educational subjects.
With Arcademics Plus, parents can track student progress data and assign games for students to play. Students can earn achievements and gameplay powerups.
Get playing at www.arcademics.com
Contact: info@arcademics.com
Facebook:  Facebook.com/Arcademics
Twitter: @Arcademics
Phone: 913-543-1711
---
Scholars Online
 – Grounded, rigorous, thorough: Scholars Online challenges students of all ages to engage in the life of the mind in Christ. Discerning the truth together, we invite students to engage in charitable civil discourse and to sharpen their skills of critical analysis and precise expression. You can build a complete curriculum from our sixth- to twelfth-grade courses in (Classical) Greek, Latin, French, history, literature, mathematics, science, philosophy, and writing, or you can choose individual courses to supplement another program. Adults are welcome to take our demanding classes (many at a college level) if they behave themselves. Summer courses in writing, geography, programming, Shakespeare, and Tolkien offer a great introduction to our unique live chat format and style of instruction. While all our teachers are Trinitarian Christians, we do not require a statement of faith from our students or their families. We are accredited with MSA-CESS.
---
eTAP is Now Free During School Shutdown
The eTAP Teaching Assistance Program is a premiere site for personalized online instruction, designed specifically to maximize student learning. Our quality K-12 curriculum is clearly different from other programs and provides a comprehensive program with all subjects and grades.
---
includEDucation
 – Learning is FUN. We prove it! Reignite your child's love of learning. With our Partners in Education, includEDucation brings families the best in education enrichment without breaking the bank. We are proud to offer both in-person and virtual programs for children age 4 and up. We are an approved vendor with most every homeschool charter. With programs such as Video Game Design, Engineering, Math Workshops, 3D Modeling,  Art, Science, and more, we have the educational experiences your family is looking for! Our instructors keep students engaged and excited to learn more. We are all about inspiring the next generation of learners and leaders. Check out our online schedule today!
https://includEDucation.com/
---
Learn with OjO
 – Prepare youngsters today for careers 20 years away with STREAM games from OjO (3 to 8 years). A combination of STREAM topics (Science, Technology, Robotics, Engineering, Art and Math) are tucked into every game. Our aim is to instill problem-solving, ambition and soft skills in the youngest of children, offering home-schoolers "a smarter way to play!" Each of OjO's board games encourage child-led, social learning and promote an active learning by doing approach to STEM subjects. For example in DNA Factory ($19.99) kids shoot "information" from the nucleus into the ribosome, then they mix and match genetic codes. Food Battles ($19.99) is an enticing board game for kids to appreciate how food flows from the marketplace to our mouths. The food then travels, one game move at a time, through the main organs around the body.
Currently available in the USA on the OjO Games Amazon Store or via subscription at: https://box.learnwithojo.com/
OjO Games Amazon store: https://www.amazon.com/s?srs=20522626011
---
Discover A Better Way To Learn
Futures Academy is an accredited private school for grades 6-12. We specialize in an innovative and student centric education model focused on one-to-one instruction, both online and on-campus. Our one student, one teacher approach is the core principal behind our academic success.
This summer, live online courses at Futures Academy allow you to master math, succeed in science and love foreign languages, all from the safety of your home. Whether you choose to learn one-to-one or in small groups, our personalized approach will provide you the opportunity to maximize your academic potential.
Our exciting middle school and high school virtual summer camps allow students to explore possibilities and hone skills in art, game design, writing, digital photography and more! Camps begin soon, save your seat today.
For more information or to schedule a virtual campus tour, call 866-590-6498 or click HERE.
---
FREE Online Summer Learning from Global Student Network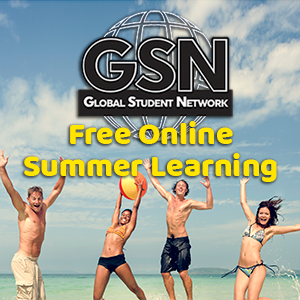 Need to catch up? Brush up? Stay sharp over the summer or get a jump start on next school year? Global Student Network is ready to help – for FREE!  Sign up between now and June 1 to receive access to Study Island free for three months (while supplies last).
Study Island is an individualized and effective online learning platform for grades K-12. Following a diagnostic assessment, lessons and games are assigned to target specific concepts and skills. Online learning means it is portable and flexible – a perfect fit with any summer plans.
Global Student Network, providing online curriculum since 2004, partners with homeschool families and schools to bring the best in distance learning to students worldwide. Check out our many options today.
---
Is middle school math the cause of wailing and gnashing of teeth at your house these days?
I am here to help!
Hello! My name is JanElle Hoffman and I am a certified, experienced, friendly teacher offering:
May Mini Math Camp – A pay-what-you-can, one week mini-math camp May 18-22. Students choose from these middle school math topics – fractions, decimals, integers – to focus on for the week. May Mini-Math Camp will include a daily live Zoom class Monday – Friday and access to free online curriculum. Limited to 10 students per topic.
June Drop-in – Online curriculum and pay-what-you-can access to a weekly drop-in tutoring session for the month of June. Limited to 20 students.
Online Middle School Math Camp – July 1-31. Weekly Zoom class, access to online curriculum, weekly drop-in tutoring. $150
Click here to learn more and sign up!
---
KidzToPros LIVE Online Courses for kids in grades K-8
KidzToPros LIVE Online Courses are educational, fun and focused on the individual growth of every child! STEM, Arts and Sports courses are held in real-time with live guidance from expert instructors and no more than 10 students.
a chance to get moving, even if they're staying indoors – whether it's getting into the groove with hip-hop or learning new moves and poses in martial arts & yoga

new challenges to strengthen their focus & critical thinking – from mastering LEGOs to coding in Scratch, Python or Java, to learning the strategy of chess

some time to self-express and unwind through art in various forms – from the origami art of paperfolding, to creating drawings and collages.
Weeklong programs are held Mon thru Fri in eastern, central and pacific times. Kids learn and have fun for 2 to 4 hours each day (dependent on grade)! Spring courses available now. Virtual summer camp programs start June 1st! Limited Time Offer: Save $50 on all KidzToPros LIVE Online Courses & Camps. Use code HTH50 at checkout. Valid through May 17th.
---
FarFaria is an award-winning reading app with thousands of e-books for children in grades Pre-K to 3. With unlimited access to a curated library of intricately illustrated children's e-books and new titles published every week, FarFaria keeps kids engaged and learning. Popular e-books include classics, like Princess and the Pea and Rapunzel, as well as the original hit series, The Monster Club and Zombie Elementary. FarFaria e-books offer professional audio narration with word highlighting and standards-aligned reading levels featured on every book cover. FarFaria is available in the App Store and Play Store, as well as for Kindle Fire. Use coupon code HOME50 to save 50% on a new subscription at farfaria.com. Offer expires June 30, 2020.
---
Adventure Academy is the exciting interactive learning program for kids from the creators of ABCmouse. The Founders of this prestigious school have created one of the world's largest collections of educational games, books, learning challenges, and more, all designed to help strengthen children's skills across thousands of key elementary and middle school learning objectives. Great for homeschoolers and learning on the go, young scholars can complete quests and challenges to level up and advance their character's abilities while boosting key skills in reading, science, math, social studies, and other core curriculum topics. Kids are motivated to learn in this social and safe online environment. Players can engage with friends, customize their character, form Clubhouses, and earn amazing rewards through learning in this immersive, educational environment. Don't miss this special offer!
---
60 days free of unlimited access to premium podcasts, audiobooks, and music for kids!
Engage your kids with Pinna – the only ad-free audio streaming service developed exclusively for kids 3-12. With the goal of activating kids' imaginations through immersive screen-free entertainment, Pinna creates and produces award-winning original podcasts, stories and songs. Pinna also sources some of the best-known kids' audio from around the world into one convenient, kid-safe platform.
Whether they like mystery, science, fairy tales, comedy, or anything in between, Pinna has hundreds of hours of programming to pique the interest of every kid. With content added daily, there is always something new to discover.
Unlock 60 days FREE of unlimited access to thousands of podcast episodes, audiobooks, music and more – with Pinna!Visit pinna.fm and select 'Begin free trial'. In step 2 of sign-up, enter promo code PINNA4KIDS.
---
FastFig – Math for the Web
Math for the web! It's a cinch to create snappy, engaging, rich math documents with FastFig.  FastFig is a free tool that converts standard keystrokes into mathematical symbols.  Designed for math, physics, chemistry, and science documents, assessments, notes, or any other document that uses equations.
Once documents are created, FastFig generates a link that can be included in an email, or post to a website. Students can also use FastFig when writing about math, since it allows a seamless back-and-forth between text and equations.  Writing about math makes students' thoughts visible, and FastFig is a powerful way for kids to explain what they know. Kids can use the tool to not only perform math skills but also defend their understanding.
www.fastfig.com
---
eTap Online will enable home instruction by parents. eTAP software allows parents to monitor their students' progress and provide assistance when needed. 30 day FREE use for all K-12 grades and subjects  + assessment +remedial lessons + records + Test Prep & provides success for all students, including special needs students. https://www.etap.org/success/
---
Oak Meadow
 has been supporting independent, home-based learning since 1975. At Oak Meadow, we see you as a traveler on a journey of learning—a fellow educator, not just a customer. We're here for you, we listen to you, and we'll support and guide you through one of the most important decisions you'll make as a parent: how to educate your child.
Our K through 12 curriculum is child-centered, nature-based and can be started any time. Our print-based curriculum can be used independently by homeschoolers, or through enrollment in our teacher-supported distance learning school. Our approach is compassionate and student-centered because we believe that children are sensitive and intelligent and that learning can be joyfully integrated into life.
From May 10 through 25, we'll be offering 20% off all items in our bookstore, including K-12 curriculum, craft items, homeschooling resource books, and more. https://www.oakmeadowbookstore.com/
---
CHSH-Teach.com
 is ready to help during the COVID-19 crisis. CHSH-Teach has 13 free, ready-to-use educational resources, for Preschool – 12th Grade for Language Arts, Math, Geography, Science and Character education. Additionally, if you sign up for the CHSH-Teach newsletter, you will continue to receive additional free resources.
CHSH-Teach.com is a small family owned business started by Lynda Ackert in 2010. Lynda began teaching 25 years ago, working as a public-school teacher before becoming a stay-at-home homeschooling parent. She understands how expensive and tough homeschooling can be. That is why CHSH-Teach offers 1,000s of educational resources for a very low annual subscription plus offering free resources throughout the year.
Click here to receive 12 free lessons to use with your children today.
---
CK-12 is a deeply interactive and intelligent K-12 learning platform.
We let students learn in their own way, whether by reading, watching videos, exploring interactive simulations, or answering personalized practice questions.
We empower educators with fully customizable digital textbooks and smart insights about their students. We've served over 100 million users, both in-school and homeschool. We're 100% free.
Join our global community!
---
Every family has its unique story, but some things are the same. Sorting through dozens of options to choose a quality curriculum that shares your values and works well for your child can make your head spin.
Then there's the daily dose of grit and grace needed to homeschool while keeping up with the whirlwind of everyday life. Your curriculum should make your life easier, not harder. You may wish to choose curriculum from Christian Light if:
You don't have hours to spend in lesson prep.
You want your students to develop independent study skills.
You admire values such as family, community, simplicity, and service.
Your children get enough screen time without doing schoolwork on a computer too.
Christian Light can help you homeschool successfully as a busy parent. Are you ready to start a new stage of the journey?
https://www.clp.org/christian_light_education
---
Trade in your worry for confidence!
With Calvert, your child can finish the school year without ease. Calvert makes school at home possible for anyone. Perfect for your busy schedule, Calvert curriculum saves you time with fully planned lessons accessible 24/7, as well as automatic grading, lesson planning, and scheduling!
"I used to spend endless hours planning and organizing our curriculum. With Calvert, I just look over the lesson the night before and we're ready to go the next day! Calvert has done all the prep work for me, and that gives me more time to focus on my kids." — AMANDA B., CALVERT MOM
No credit card or obligation. Visit calverthomeschool.com/freetrial and use code CFTHTH for a free 90-day trial of our online and interactive program for grades 3-12. Offer ends 4/15/20.
---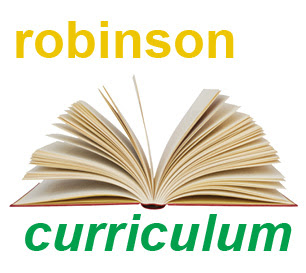 Robinson Curriculum – "How hard is RC to understand?"
Answer: The student's day is pretty straight forward.
A lesson of math – they mark their own work against the Answer Key.
A page of writing – on any topic they want. You mark it for errors.
A few vocabulary words – use flashcards or the vocabulary exercises.
A couple of chapters of reading – they go from Book 1 – 150 over time.
That's it. The next day they pick up where they left off the day before.
$195/family – includes all grades/subjects – 2 years of RC Online – same day access!
---
Resources for Learning at Home During the COVID-19 School Closures
Amid the uncertainty caused by COVID-19, the staff at Clonlara School know that many families new to homeschooling are wondering how to continue their children's learning at home. Can they do it? We don't just think so, we KNOW so.
We created these tip sheets, recommendations, and ideas to help in learning and growing with your children at home. Please USE them and SHARE them with any family who may find them helpful.
As a global learning community with home-based/distance learners around the world, Clonlara School guides K–12 students and their families in crafting an educational plan that works for them, and we let their interests drive the learning process. Families can choose the program that works best for them: Off-Campus or Online.
---
Is it time to find an ART CLASS for your STUDENT?
Come learn from the best at THE ANIMATION COURSE! Chad Stewart, former Disney animator and veteran homeschool Dad, offers 12-week LIVE – Online Animation and Drawing Courses for 11-18 year olds beginning June 1st.  Recorded (with grading) classes also available for schedule flexibility.  Live, weekly classes are one hour long and include personal video reviews by professional animators and artists for individual learning! There are other weekly, live learning opportunities as well! Summer, Fall and Spring sessions available. We have 4 different animation levels available and 2 different drawing classes available. If you need the lessons RIGHT NOW, the 12 recorded lessons from our beginning classes can be purchased with a huge discount found on our website! Contact Kayla Stewart at kayla@theanimcourse.com or at 661-755-5775 with any questions!
Website is www.theanimcourse.com
---
The Starline Solution (TSS)
 is a character-based, individualized curriculum, designed to allow each student to progress at his or her own pace, which may vary from subject to subject. TSS curriculum is designed to benefit each student individually.
The Starline Solution is the students' annual curriculum divided up into self-directed, bite-sized Learning Units to be used in a classroom supervised by a teacher (whether this is a traditional teacher or home school teacher). Each student will complete the Units at his or her own rate of learning. This means that students will be working on different Units and completing them at different times. This allows the teacher time to work individually with students on problem or enrichment areas.
---
The Critical Thinking Co.™ is offering free e-books, free weekly puzzles delivered via email, and as always, hundreds of free printable sample activities, an online playroom full of interactive games, and several free quizzes.
Plus, they are offering 30% off all e-books, and free shipping + 20% off orders over $45!The Critical Thinking Co.™ publishes award-winning PreK-12+ educational textbooks, activity books, e-books, and apps that help children become better problem-solvers. The approach is unique: help kids develop foundational reasoning & critical thinking skills while learning the core subjects (reading, writing, math, science, and social studies).
---
Fully Accredited Online Course Provider that offers self-paced, asynchronous, online courses to students in grades 3-12. 150+ high school courses for credit, including AP, STEAM and Career Electives. Courses approved by UC, NCAA, College Board, and many State Departments of Education.
We are offering a 30% discount on CORE courses –$175 for 0.5 credit to help with Covid-19 restrictions.
For discounted pricing please visit https://redcomet.org/partner/. Click on the down arrow to pick "2020 Graduation Special" which is at the top of the list. This will take you to the course catalog showing the discounted pricing. We accept all credit cards and PayPal.
---
---
Help!!! Schools are closed, and I don't know how to teach my kids! Are you among the millions of overwhelmed parents suddenly thrust into the role of teacher?
Here is how Wings to Soar Online Academy can help:
– We have online learning packages specifically for K-8 students
– Our programs encourage independence and do the teaching for you!
– We create a personalized plan to fill skill gaps and keep them learning in all core subjects
– We support you at whatever level you need with consultations and coaching
Learn more here: https://www.wingstosoaronline.com/product/covid-19-school-closings-online-learning/
---
---
Beestar provides innovative online programs in Math, Reading, Vocabulary, Science and Social Studies of grades 1 to 12. It has helped thousands to reach their excellent achievements in the past 16 years.
Using its curriculum-based programs for only 20 minutes a week, students can effectively master the core knowledge traditionally taught in schools and develop advanced problem solving skills.
Annual Beestar National Competition (BNC) brings students nationwide together to solve challenging problems and explore interesting ideas. Participating in competitions such as BNC broadens students' knowledge significantly as they explore topics beyond conventional scope and develop advanced skills.
---
Super Teacher Worksheets
Super Teacher Worksheets is a website with over 20,000 printable worksheets for students in the elementary grades.  Download and print worksheets for math, reading, spelling, writing, phonics, science, and social studies.
STW is offering free access to everyone during the COVID-19 school closures through a temporary, shared account.
You can log in with username: temporaryaccess  password: stayhealthy
https://www.superteacherworksheets.com/
---
Looking to add variety to your learning at home experience? At batteryPOP, video learning is all about expanding your mind, getting creative and having fun! batteryPOP.com's free CLASSROOM channel is filled with everything from ABCs to Science Adventures. HIGHLIGHTS MAGAZINE brings you animated storybooks for reading time, and GUINNESS WORLD RECORDS stretches the limits of what humans can accomplish!  Create your own laboratory experiments with MOUSE IN THE HOUSE, or rock out to numbers and shapes in the animated series UMIGO. It's great for kids anywhere from 4-13 years old!
Visit batteryPOP.com for hours of great kids' edutainment, or download the free batteryPOP CLASSROOM channel on your Roku device.
---
Take your kids on a magical 3D learning adventure with our augmented reality zoo animals! Your kids will be super-engaged with letters, letter sounds, numbers, counting, and shapes like never before!
If you've been homeschooling for a long time or if you're new to it, you'll be amazed by these letters and math journals that come alive for 3-6 year-olds! Our affordable activity journals bring learning to life with our FREE Journals alive™ mobile app.
Watch how this kindergarten teacher uses the journal with his kiddos.
As a give-back to our wonderful early educators, their students, and their parents, we are debuting the first episode of The Zoo Crew Alphabet Show! Enjoy! Feel free to share! More to come! Click this link: https://www.youtube.com/channel/UC–cRUfzdeC2G67qlycj6uA
---
"Reading Kingdom is an outstanding program that has transformed the teaching of reading."
— Dr. Bradley Peterson, Director, Institute for the Developing Mind, USC
Reading Kingdom teaches students to read and write with comprehension at a 3rd grade level. Reading Kingdom's innovative techniques are extremely effective because they are based on a new "Phonics-PLUS" system of reading instruction. Claim your 30 day free trial at www.ReadingKingdom.com
ASD Reading teaches students with autism and other special needs to read, write and comprehend at a third grade level. Current reading education relies on methods that often do not work for students on the spectrum. But the innovative content and methods of ASD Reading enable students to achieve success – even when they are non-verbal (i.e., non-speaking). Claim your 30 day free trial at www.ASDreading.com
---
Parents, we are all facing an unprecedented challenge with more questions than answers. However, you are resilient, and it is inspiring to see how our communities are coming together. In response to these unprecedented challenges, we are making TeacherVision's premium resources freely available to all who need them. We feel that it's critical for teachers and parents to have access to everything needed to support students' learning at home. Click on our link to learn more, including how to create your account and get 100% free access to more than 20,000 printables, worksheets, lesson plans, and more.
https://tchvision.link/howtohomeschool
---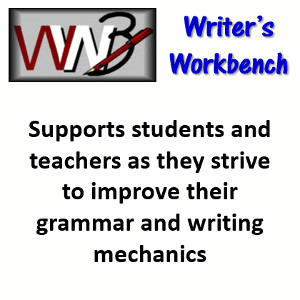 Writer's Workbench On-Line provides immediate, accurate, and instructional writer feedback that critiques writing mechanics with 26 focused analyses.  WWBOL shows students how to fix their writing errors without fixing their problems.  Students can "grade their own papers" and fix their grammar problems and learn how to fix and avoid those problems for future writing.  $50.00 per year.
https://www.writersworkbench.com
---
We at Royal Fireworks Press are aware of our duty to our larger community of parents and children, teachers and students to keep operating and to supply the high-quality printed texts and novels, online courses, supplemental materials, and educational opportunities that you rely on us to provide. We are also aware of our duty to our local community to prevent the spread of the coronavirus. For as long as this pandemic lasts, president of RFWP Dr. Kemnitz will live at our publishing complex and will run Royal Fireworks alone. During that time, he will continue to take and ship orders as fast and as efficiently as possible. The Royal Fireworks Online Learning Community will continue to function as before, and customers are encouraged to check out our current offerings for ways in which to keep children academically engaged during this time of school closures. For more info, visit us online.
---
You're viewing our resources about Coronavirus Home Schooling and How-to Homeschool During Coronavirus. We hope these are helpful to your home schooling during the Coronavirus pandemic.
---
Foreign Language
Breaking the Barrier – Homeschoolers seeking to learn Spanish or French will find a perfect partner in Breaking the Barrier. Founded by series author, previous AP Consultant, and long-time language teacher, John Conner, Breaking the Barrier offers three comprehensive Homeschool Packages for $109/each: Beginning, Intermediate, and Advanced. Each package is the equivalent of a full-credit or year of study and provides all the material needed to master the language including vocabulary, grammar fundamentals, oral-practice and exposure to the cultures of new lands. After completion of the intermediate and advanced levels, students also will be well-prepared for AP and SAT II language examinations.
---
All Bilingual Press offers a 30% DISCOUNT on any book!   COUPON CODE: BPLG2020 
You can teach Spanish to your kids while learning with them! We offer Español para chicos y grandes (Spanish for kids and adults), which includes textbooks, manuals, poetry, parents' guide, audiobooks and even a cartoon series! Words and expressions for everyday life is the focus.  Children and parents learn and use dialogs as a family. Audiobooks containing EVERYTHING in the texts provide pronunciation and intonation guidance, leading to a natural way of speaking and understanding.
The Johns Hopkins University Center for Talented Youth is a long-time client of All Bilingual Press.
Download OUR FREE AUDIOBOOKS at: https://allbilingual.com/free–download-audio-files/
---
Greek 'n' Stuff, founded in 1996, provides quality materials for homeschool, Christian school, and Sunday School environments.
Hey, Andrew! Teach Me Some Greek! and Latin's Not So Tough! begin gently and advance gradually, providing reinforcement through workbook activities and translation exercises. Our customers tell us … "This is my child's favorite subject."
Products: The easy way to learn Greek! – Hey, Andrew! Teach Me Some Greek! teaches biblical Greek to preschoolers and older students (even adults enjoy it) using deductive, inductive, and interactive methodology in a workbook format. Take the drudgery out of learning Latin!
Latin's Not So Tough! introduces Latin to young students before they decide classical languages are too difficult to learn.
Are you hungry for God's Word? – Alone With God Bible Studies explore Jonah & Ruth, Esther, I Samuel, and Acts. Simple questions. Sidebar insights into the geography, history, culture, and people of biblical times. Memory verses. Life applications.
---
Little Pim
 turns screen-time into language learning time with their award-winning program for kids ages 0-6. Try it free today or send it as a gift!
---
You're viewing our resources about Coronavirus Home Schooling and How-to Homeschool During Coronavirus. We hope these are helpful to your home schooling during the Coronavirus pandemic.
---
Coding
BitsBox
 – Looking to add computer science to your homeschool? BITSBOX makes an award-winning home STEM curriculum for boys and girls ages 6-12.

 Bitsbox teaches kids to do STEM activities independently

 Awarded Best Homeschooling Program for 2019

 Support team available 7 days/week
Learn more at subscribe.bitsbox.com. Enter coupon code ATHOME20 for $20 off your first subscription purchase of $50 or more. Offer expires June 30th.
---
Chibitronics
 offers a fun new way to learn about circuits and coding using paper crafts and our products are appropriate for students, elementary school age and up.
We recommend beginning with our STEM Starter Kit or Love to Code Creative Coding Kit. Both include self-guided workbooks with all the materials you need to start creating your own electronics. The STEM Starter Kit gives you a sketchbook that you can fill with drawings illuminated by circuits you build yourself. And the Love to Code Kit takes things to the next level teaching programming concepts like digital and analog I/O, control flow, variables, and multithreading using an interactive storybook!
Find out more about these kits and our products at: https://chibitronics.com/how-to-page/
Use discount code HS25 for 25% off your whole order (not including shipping). Valid until June 30, 2020.
---
Live Coding Classes with CodeHS – Register Today!

CodeHS, the top educational coding platform for high school and middle school, is offering live online computer science classes in JavaScript and Python for students learning at-home. These classes are designed for students ages 13-18 with little or no coding experience.
CodeHS Live Classes will be taught by CodeHS curriculum developers who have extensive teaching experience. Each class will meet twice per week for 8 weeks on Zoom (16 sessions total) and include grading, personalized feedback, and debugging support.
Register online today for this unique learning experience, class space is limited and starts the first week of May! Use the discount code HOMESCHOOL to receive $50 off your registration. codehs.com/a/77
---
Learn to code with robots!
Make learning to code fun and exciting for students of any age with a programmable robot from Terrapin.